One advantage of painting on panels is that you can often make radical changes to an existing composition by cropping the panel down to a smaller size.
Earlier this month I decided to replace some of the small paintings in my inventory. I was out of time (and energy) to create new pieces before the next show, but I was able to find some new ideas hidden in the older paintings that were hanging around the studio.
If you want do this yourself, make sure the old painting is thoroughly dry. For safety's sake, it's better to avoid cutting into paint that contains cadmium, lead, manganese or other heavy metals. In any case, I'd recommend doing the cutting outside and wearing a good dust mask.
The easiest way to figure out where to put the cut lines is to start by laying different sized frames over the top of the old painting, then moving each frame around to see what new compositions arise. When I find something I like and have an idea where to make the cuts, I mark out cut lines with a pencil directly on the paint surface (I place one of my panel templates over the top and draw around it).
The cuts are always made with the paint side up and, for best results, I recommend using a Japanese pull saw. They give a clean cut without the tear-out you get from a traditional hand saw. You can buy a good one on Amazon for around $20.
Here are some of the recent saves that my trusty saw has made: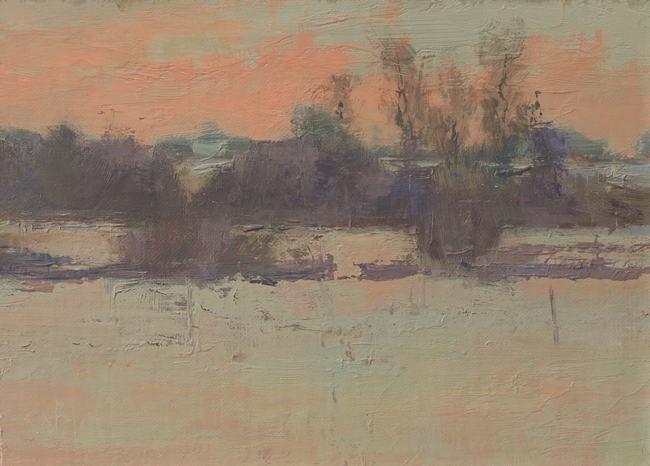 Winter Fields and Hedgerows. 5x7, oil on linen panel. Cropped from a 9x12.
I worked on a painting for several years, looking for a fresh way to approach a difficult subject. Although I liked the paint textures and colors, the original composition didn't work. By cropping, I was able to focus just on the best part.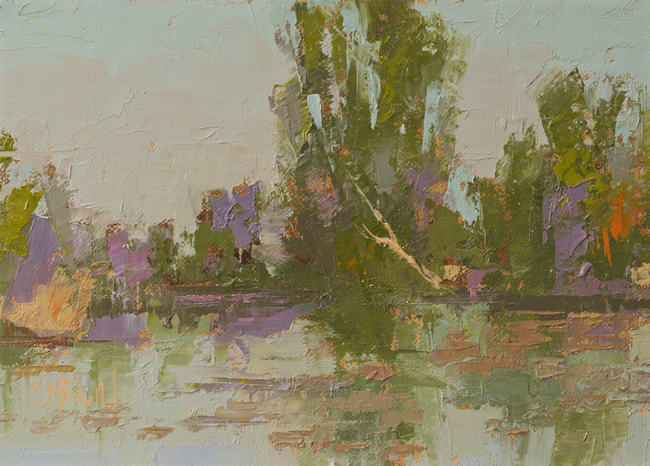 Ponds at the Arboretum. 5x7, oil on linen panel. Cropped from a 6x12.
A plein air painting from last year. The original was too complex and it was hard to figure out exactly what the center of interest was. By getting rid of the left third of the painting, I think I took away some of the ambiguity.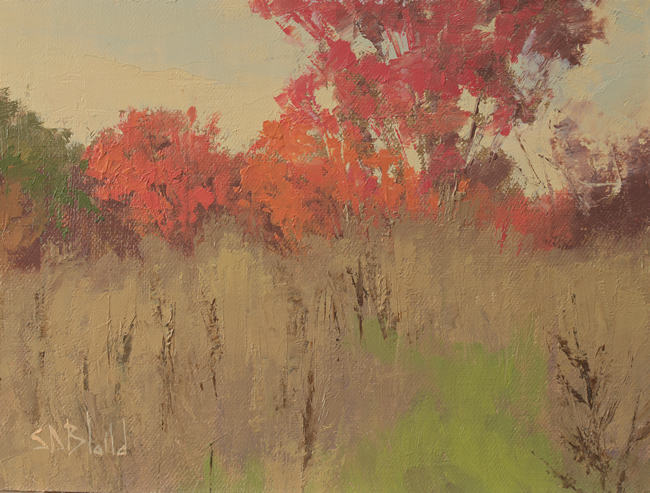 Autumn at Union Bay. 6x8, oil on hemp panel. Cropped from an 8x12.
Although I only painted this at the end of last year, the original never received a second glance from customers who saw it in person. I decided to get rid of the least important parts so that the red trees dominated the picture.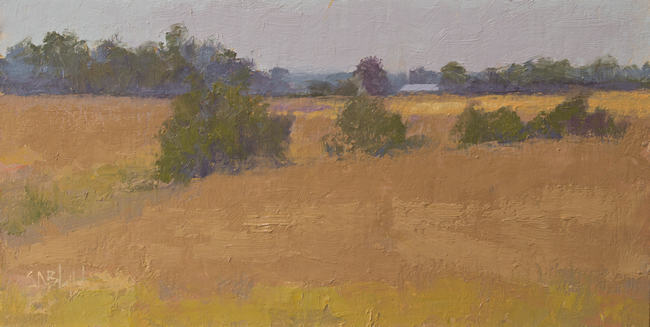 Trough Hill Farm. 6x12, oil on linen panel. Cropped from a 9x12.
This is the oldest of the bunch—one of the last plein air paintings I did in Virginia. While the whole had some sentimental interest to me, the original foreground was always a little uninteresting. I think it looks better this way.