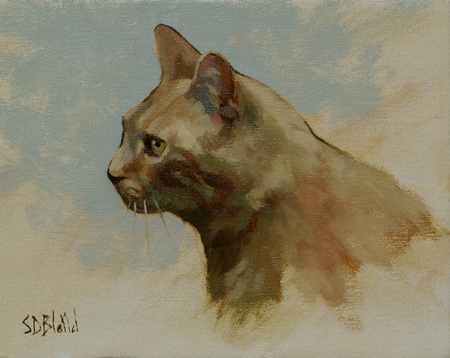 Shakespeare. 8x10, oil on linen. 2014
Last weekend one of the patrons at Upperville Stable Tour asked me if I ever painted portraits of cats.
In truth I paint about 30 dogs for every cat I attempt, although I'm not sure why there is such a great imbalance. After dwelling on this for a few days I decided to try this portrait of Shakespeare. I met him at Willow Hawk Farm, just around the corner from us. He is possibly the friendliest cat that I know.
I used a simple palette of cobalt blue, burnt sienna and yellow ochre over a raw umber block-in. This will be on display and for sale at the Western Loudoun Artists Studio Tour in June. See here for more details: www.wlast.org
Footnote
---
I've recently done away with the comments section. If you have questions or comments, please contact me directly. Links from other blogs are always welcome.