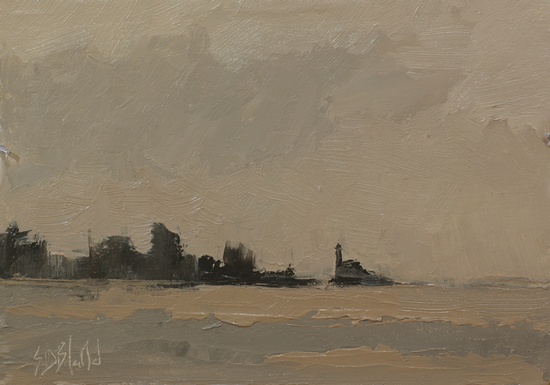 Alki Point. 5x7, oil and cold wax medium on linen panel. 2016
After seeing this view during a ferry ride to Bremerton, I did a small charcoal sketch of the scene. Since then I've made a few attempts to create it in paint, all of them abandoned.
Today I decided to try again, this time on a small panel, using some paint that was left over from an earlier plein air paint out. The burnt umber, ultramarine, and yellow ochre palette made the mixing and choice of colors easy. Most of the time was spent trying to get the edges to work - dark/light transitions are always hard to do.
The effects I'm trying for are simplification, abstraction and atmospherics. When painting such an iconic building it's easy to get pulled into specifics and too much detail. I tried to get the lighthouse down with a couple of strokes of the painting knife, after which I left it well alone.