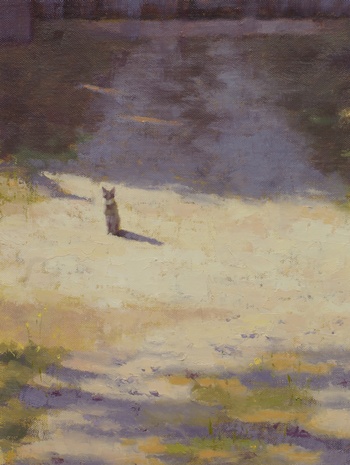 Barn Cat. 12x9, oil on linen panel. 2015.
Composition and palette are fundamental elements of my work. Today I revisited an older painting that I thought would benefit from a different approach to both.
The original panel was divided into a light half and a dark half. The barn door in shadow became too dominant and no amount of repainting, of which there was a lot, could overcome the basic flaws in the design.
In this composition I removed most of the barn door (it was also difficult to paint) and included some foreground to break the symmetry. It has one of the most powerful underlying designs of any of my works.
Working on a textured panel was mostly helpful. I was able to convey a sense of light on the gravel using strokes of thick paint over a thin, warm under painting. The shadow areas were painted with thin paint, so the texture of the panel worked against me a bit.
Light/dark edges made the dappled light in the foreground the most difficult part to paint. After letting the painting sit, I cropped the panel down to a smaller size to eliminate some distracting passages.