This week I started work on a new portrait. Although I had taken about 100 photographs of the dog, Grace, and had several nice ones to choose from I decided that I could best paint her by combining two of the photos together: one was a good view of her head and the other was a good view of her body. They were both taken from the same angle to the sun so it was easy to stitch them together.
After working up a small pencil sketch to help me think about the placement of her body on the canvas and her relationship with the background I did a small color study: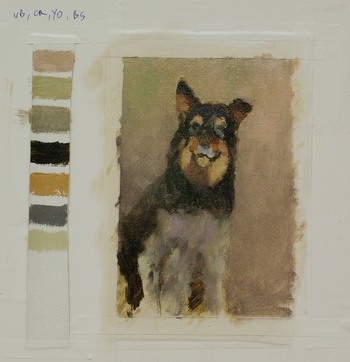 The color study is done on a scrap of canvas taped to a board and helps me to get a feel for how everything will start to come together on the large canvas. It also serves as a reminder that it's easy to paint muddy colors in the background areas if I'm not careful.
Although I'm still thinking about whether or not I want to stick with the color choices I made in the color study, I decided that the value sketch was still good and I was able to start the block in on the canvas without second guessing myself.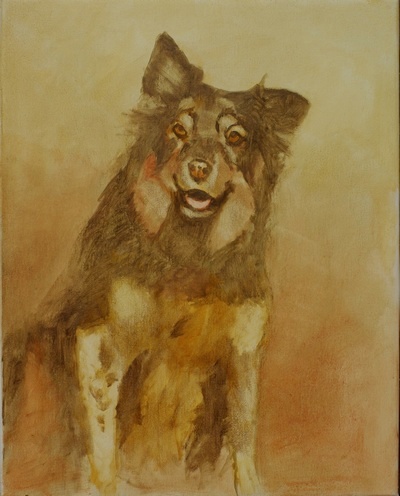 Grace. 16x20, oil on linen. Work in progress.
The block in is a very thin and almost monochromatic ghosting in of the final image. It helps me to see that I have the drawing right before I start laying down the thick, hard to correct, opaque paint on top. I like to let this layer dry before painting over it, so I've put the portrait aside over the weekend and I'll recommence work on it next week.