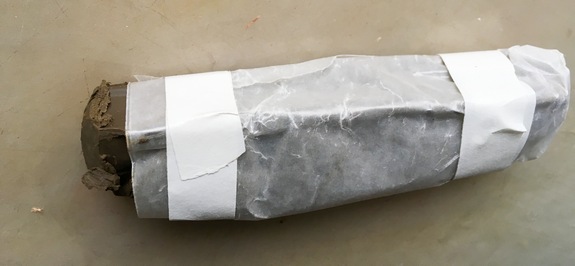 Formula: 1/4 cup bleached beeswax pellets, 2 tablespoons raw umber oil paint, 1 teaspoon alkyd gel, 1/2 teaspoon linseed oil, 1/2 teaspoon d-Limonene
This formula was the result of some experimentation. I think the softness is just right, although the oil stick is a bit too waxy for my liking.
Melt the wax in a double boiler, then remove from the heat and add the rest of the ingredients. Stir thoroughly and pour the mixture into a mold lined with wax paper. After cooling, the stick can be removed from the mold and is ready for use.
The hardest part is actually making the mold—I created one from some pieces of wood that were clamped together. It was a little fiddly, but the results were OK. I will make a purpose built form next time.
As with all processes that involve, wax, oil and heat. Please take great care when melting the wax and mixing the ingredients. Never do this on an open flame stove top.