Today we returned to One Trick Farm for the second of our two outings there. Fortune smiled on me and I managed to get two small paintings done.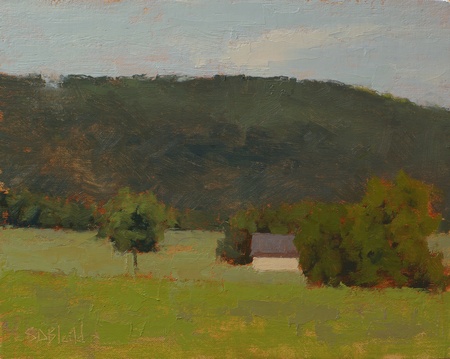 White Barn (plein air). 8x10, oil on linen panel. 2015
The first painting I did is of some fields and a barn that were technically on a neighboring farm. I noticed this view last week and it was on the top of my list to revisit. The painting required a lot of simplification which resulted in the foreground looking empty. Rather than placing an object there I decided to create interest by introducing a violet bias to some of the greens and letting some of the orange toning show through.
The overall color choices and edge work on the top of the Blue Ridge were both guided by my recent experiences painting at Meadow Grove Farm.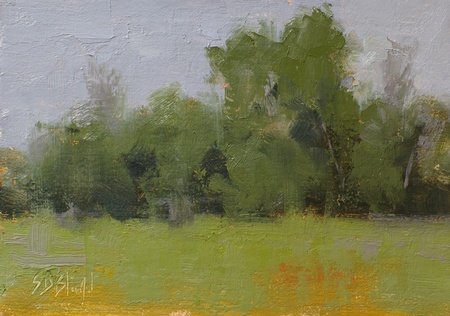 Trees - Study in Edges (plein air). 5x7, oil on linen panel. 2015.
For the second painting I stood in exactly the same spot but turned about 45 degrees to the right. I thought the view had some elements that would make a nice study, even though there isn't a strong center of focus.
This was dashed off in about 20 minutes. I spent 5 minutes mixing and troweling paint on the panel, the remainder was taken working on edges.
I find the color of the shadow in the interior of trees to be one of the hardest things to paint when I'm working outside. For this study I just tried to get the temperature (cool) and the value (dark mid tone) right without worrying about the exact hue. Then I mixed the paint for the lit foliage to have the correct temperature(warm) and value (light mid tone) relative to the shadows.
The addition of a couple of suggested trunks and branches was a finishing touch to break up the large shadow areas.