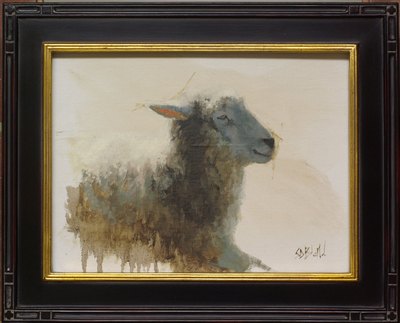 Sheep Sketch. 9"x 12", Oil on linen panel. 2013
With all the holiday commissions completed and delivered I managed to find time to work on some sketches, and studies for future paintings that may or may not happen.
In the fall I spent one Sunday morning roaming around a sheep farm and I had some nice reference shots of a few sheep. I especially liked the profile and cool shadow-side light on this sheep. My objective was to get the feel of the wool coat without overdoing the painting. The broken edge between light and dark areas on the back and top of the head helped to accomplish this.
Leaving the background unpainted except for the initial wash helped to reinforced the feeling of backlight.