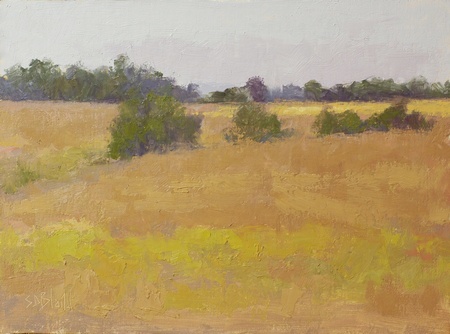 Trough Hill Farm (plein air). 9x12, oil on linen panel. 2015
Today's paint out was at Trough Hill Farm in Middleburg, VA. A property with 200 year old trees and a great view over the fields to the Blue Ridge.
The light conditions were good for working outside although everything brightened up while I worked so I was never quite sure of the true colors. I think it would be fair to say that this is more an interpretation of the colors before me than a paint-what-you-see kind of work.
To help with the composition I removed a large shrub tree from the scene that would otherwise have taken up most of the foreground. I compensated with a bit of extra texture.
This was my first time using Galkyd Lite as a medium. The drying time was so fast that paint started to dry on the palette before I could get it on the canvas (I might have been trying to use too much). To speed things up I worked this like a very small painting and troweled on most of the paint with a palette knife then worked the paint with a brush when it was on the panel. The result, of course, is that there is a great deal of paint and a lot of texture on the panel, especially in the foreground.
The palette used was chromatic black, ultramarine (for some of the dark mixtures), alizarin permanent, cad orange and cad yellow medium, plus white. The black is especially useful for toning down the colors.
After letting the painting dry for a week, I added a band of lighter color across the distant part of the field and pushed a few of the distant trees further into the distance.
Footnote
I've recently done away with the comments section. If you have questions or comments, please contact me directly. Links from other blogs are always welcome.