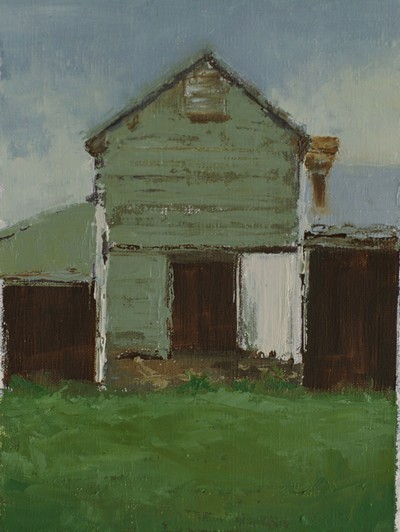 Yellow Wood Sketch. Approx 5x7 oil on linen. 2013
Earlier in the spring I made a resolution that I would try to get more out of visiting plein air painting locations by trying to do less; following the advice of Hawthorne I decided to focus on quick studies and sketches rather than fully finished paintings. This enables me to check out designs more quickly by filtering out the bad ideas and finding problems before I've invested much time in any one painting.
After doing this for a few months I feel like I'm starting to pull apart the machinery of landscape painting a little more and getting a better handle on the process.
This is a study I did last week at a farm called Yellow Wood. Because the painting is made up of a series of simple shapes I was able to lay everything down in just over an hour and still had plenty of time to try and make the edges look convincing.