Here we are with about 4 weeks to go until my next show. I've just ordered the frames I need and I'm winding down my painting activity to get ready. Although it's tempting to keep painting right up to the event, it becomes a logistical problem in terms of knowing when everything will be thoroughly dry and what frames to have on hand.
Much better to draw a line under everything and say "I'm done".
Lowlands. 16x28, oil on hemp. 2018
This is the largest painting I've done in the last 30 months. It's difficult to go from small pieces to this vast expanse of canvas—I had to think through my process and techniques so that they would work on a larger scale.
I changed the design even as it neared completion: the sheep were originally in the front field, but they didn't look right. I followed my own advice and pushed them back in the picture plane.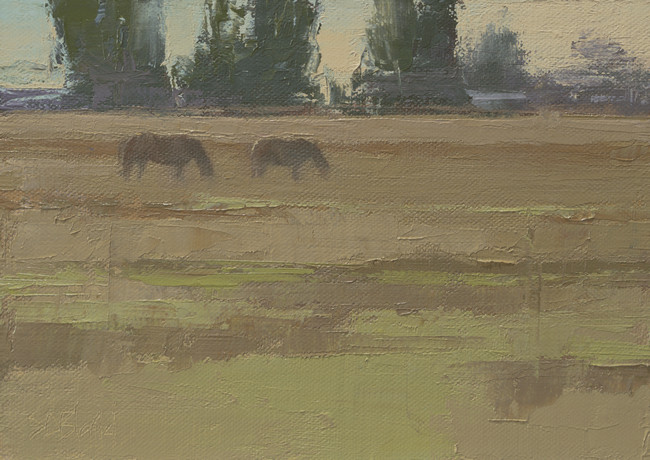 Morning Graze. 5x7, oil on hemp panel. 2018
A small sketch that brings together some themes and ideas I've worked on over the last year.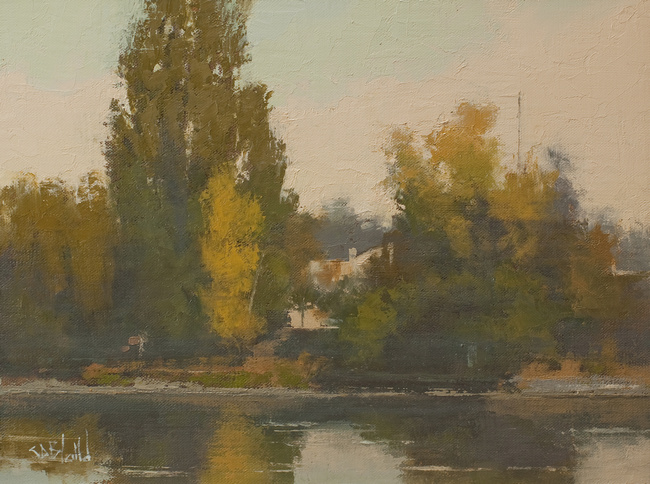 The Canal Bank at Fremont. 9x12, oil on hemp panel. 2018.
On one of my scouting expeditions I found a small park at the side of the canal between Salmon Bay and Lake Union. Once again, I've put the center of interest in the middle of the picture.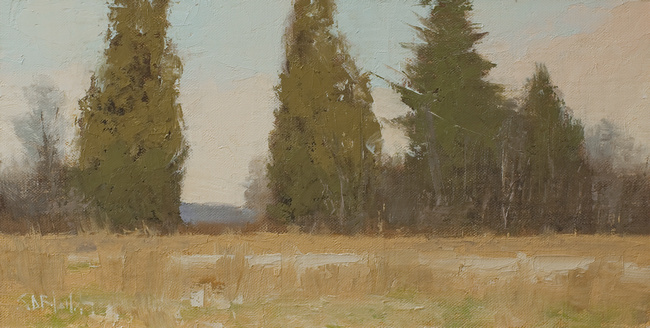 Sentinels 2. 6x12, oil on hemp panel. 2018
A re-statement of a recent painting. I thought the idea was good enough to generate two paintings with slightly different compositions.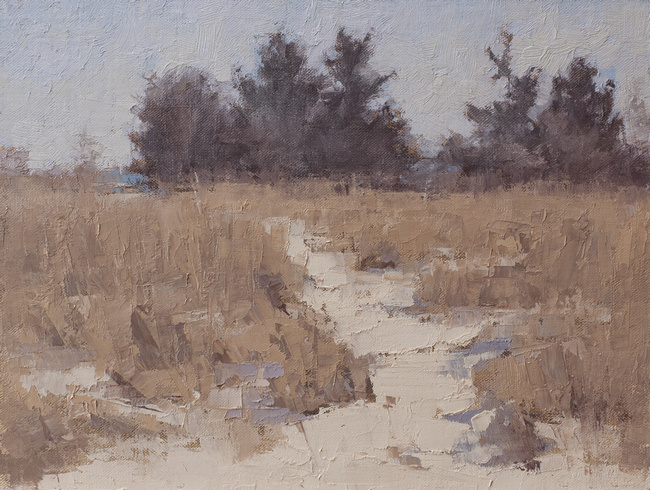 Winter Landscape. 9x12, oil on hemp panel. 2018
Another winter landscape and a re-work of something from last winter. I pushed the paint textures quite a bit so that the snow looks like the icing on a cake.