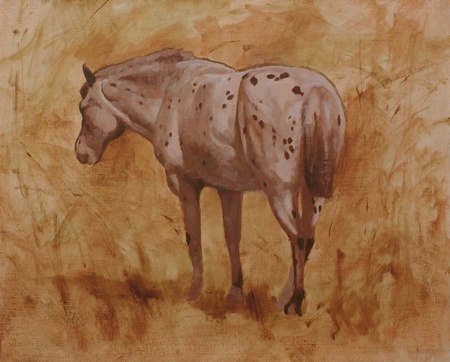 Retired (WIP). 20x24, oil on linen. 2015
This oil painting in progress is of a horse I saw a couple of years ago at a paint out at Little Fiddlers Green in Bluemont, VA. I was taken by the look of the light falling across the body and the motif of the spots in the coat.
After starting with a a fairly large charcoal and conte crayon study, I decided to stick with a monochromatic approach for now. I wanted to keep something of the same feeling as I started to work in oil. I don't have an end goal in mind for this painting and I've lost all desire to simply copy the photograph on which it's based, so it's going to stick around in the studio for a while until something comes to mind.
Another thing that's holding me back, I think, is that I want to keep as much of the feel of the roughed-in background as I can. I need to find a solution for that i.e. an approach that leaves something equally good in its place.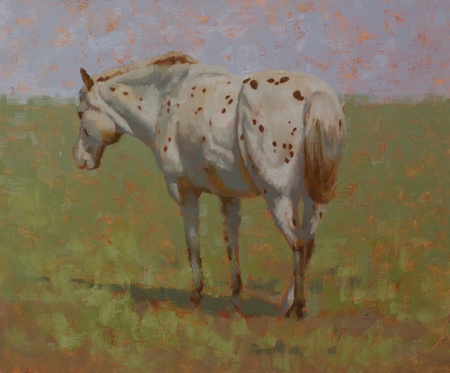 Retired (WIP). 20x24, oil on linen. 2015
After thinking about it for a couple of weeks I decided to go with a more standard, simple color scheme. I had to face the fact that there wasn't a good solution for the roughed-in background that would keep the focus on the horse. I'm going to put this to one side while I work on the next couple of commissioned painting.