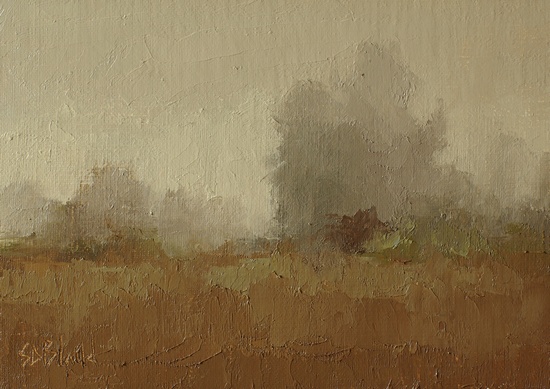 Foggy Morning. 5x7, oil on linen panel. 2016.
When we had some early morning fog late this summer, I took the opportunity to get outside and take some photos before it lifted.
This small sketch was done from some of those references: a study in foggy atmospherics, a way of preparing for the winter to come, and a preparatory work for something larger.
Before starting to paint I applied a filter to the reference image to add a little more color. The filter actually mimics the Instagram "Brannan" effect. This helped me to see the image in a different way and gave me a better starting point for the study.
As I painted I tried to focus on two main things: texture in the paint, and creating color shifts in the grays. By doing that I think I managed to save it from being too dull.