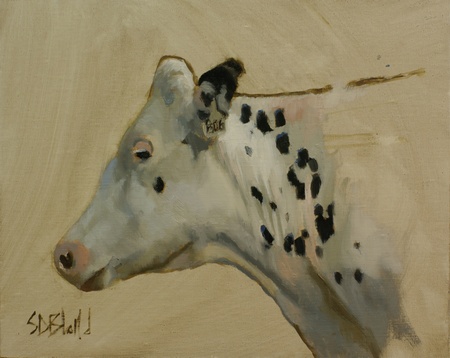 Study of 806. 8x10, oil on linen panel. 2014.
806 was one of the young heifers at Rocky Point Farm in Point of Rocks, MD where I spent a morning in the pasture with the young cows. I've been meaning to paint this Holstein cow for the last 18 months and I plan to turn this small sketch in to a larger work,
I painted this on a lead primed, extra fine quality linen panel from Wind River Arts (that a fellow painter was kind enough to give me) in about 3 hours using a palette of ultramarine, burnt sienna, yellow ocher, raw umber, and a small amount of terra rosa.
The abstract idea behind the painting is the J-shape made by the darks in the ear and the spots on the neck. The soft light from the upper right places the area of highest contrast just behind the ear, which is also the center of interest of the painting, and shows the wrinkles in the skin of the neck. I thought this made a more interesting composition than having the cow's head turned towards the viewer.